finum® Hot Glass System 200 ml (8 oz)
Regular price

Rs. 2,130.00

Regular price

Sale price

Rs. 2,130.00
The finum® HOT GLASS SYSTEM is a stylish double-wall cup equipped with perfectly matching permanent filter – a simple and elegant solution for individual tea brewing. It comes with a lid to prevent heat loss and to serve as drip-off tray after brewing. The double wall insulates hot and cold beverages alike, keeping the right drink temperature and being a pleasant surprise in your hand. It also helps to avoid heat marks on your table, normally caused by wet vapor-film rings. The lid doubles as a drip-off tray for the brewing basket.
Highlights
double-walled, made from borosilicate (heat resistant) glass
lid serves as drip-off tray
200 ml capacity
for tea, coffee and spices
micro-fine stainless-steel mesh
tasteless, BPA free material
easy to clean
dishwasher safe
tea hat prevents heat-loss
---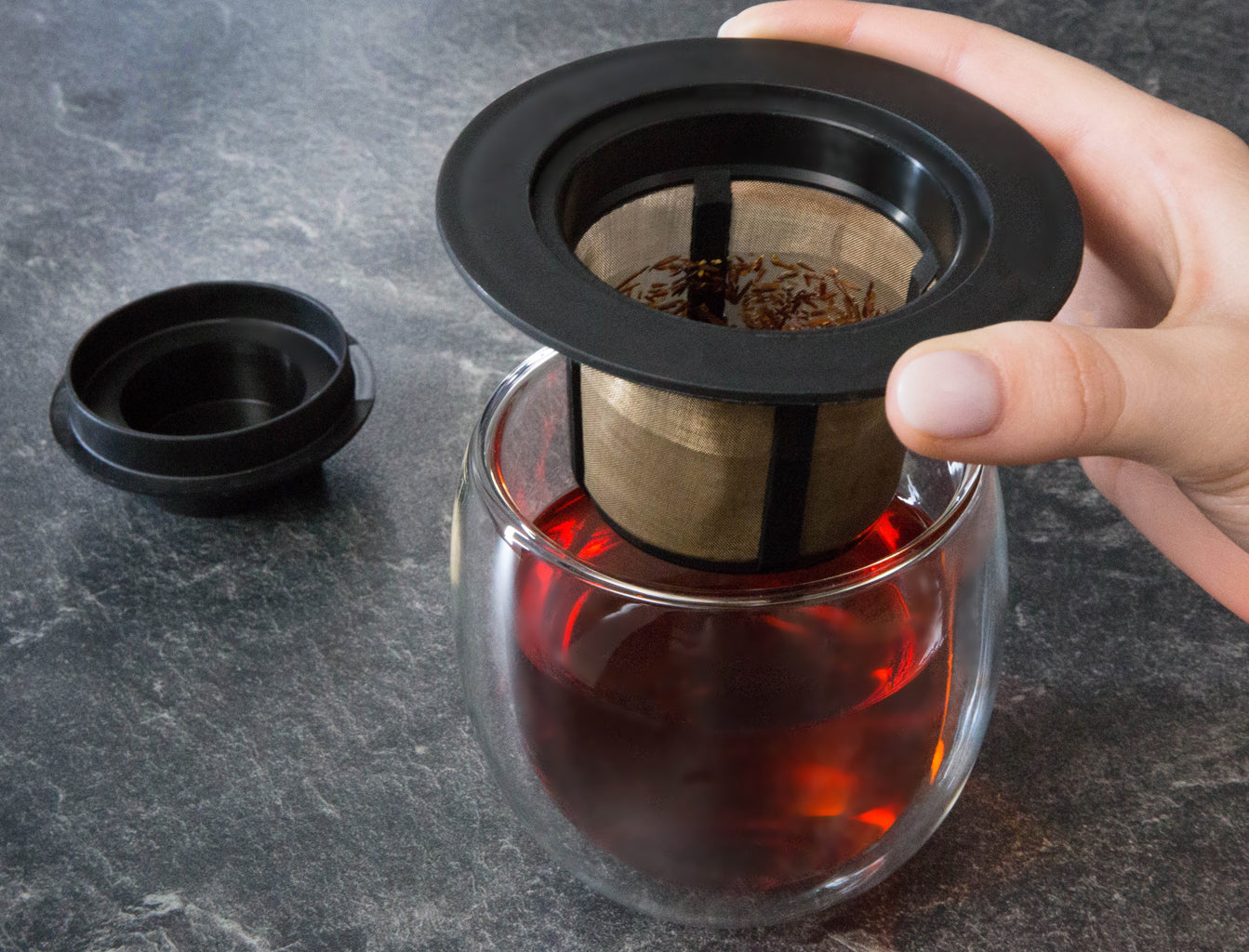 How To Make Perfect Cup of Tea
Step 1 : "Water is the mother of tea." Always use fresh cold tap water.

Water that is distilled, hot from the tap, boiled for too long or boiled multiple times may result in flat in taste with little or no aroma.
Step 2 : Put the tea at the bottom of the cup, teapot or infuser basket

Approximate amount of dry leaf for a cup of 225–275 ml is 2.5-3.5 grams or 1–1.5 rounded teaspoons; and for teas such as large leaf black, oolongs, and whites, begin with 1.5–2 rounded teaspoons. Adjust the amount of dry leaf tea according to taste, preference and experience.
Step 3 : Pour hot water over the tea

White Tea- 75 to 80 C
Japanese Green Teas- 75 to 80 C
Other Green Teas- 80 to 85 C
Oolong Tea- 80 to 85 C
Black Tea- 100 C
Pu-Erh Tea- 100 C
Rooibos & Herbs- 100 C
Chai Blends- 100 C
Step 4 : Steep the tea for the required amount of time.

White Tea- 3 to 5 mins
Japanese Green Teas- 1 to 3 mins
Other Green Teas- 2 to 3 mins
Oolong Tea- 3 to 4 mins
Black Tea- 4 to 5 mins
Pu-Erh Tea- 3 mins
Rooibos & Herbs- 5 to 7 mins
Chai Blends- 6 to 7 mins
Step 5 : Separate the tea leaves and the water; by pouring the tea in to a cup from the teapot or by removing the brewing basket

White, Oolong and Green teas can be infused multiple and several times.
Milk and Sugar are not recommended for Green, White, Oolong and even
Herbals unless herbal is a Rooibos.
Real Reviews from Real Enthusiasts
The quality of the tea is top notch and it's a nice stimulant. Plus the seller sent trial packs of one relaxant and one stimulant tea which were great too. Will keep buying !

AB
It is a good product . I had been buying it from Middle East and doubted the Indian quality, I found it very tasty

Joe Thomas
Before starting, this is my 3rd Order in the last 60 days. The product chado exactly provides that. Great taste even without any sugar or honey. And an excellent aroma too.

Aravindan
Good packaging by Chado and excellent quality product, the seller gave two extra samples along with Yerba mate tea.. highly recommended !!!

Vivek Kumar
This is genuinely a great product for everyday! plus the seller was super kind enough to send two different flavours of tea to try.

Shaik Zahid Hussain
FAQs
Can I reinfuse the tea?

White, Oolong and Green teas can be infused multiple and several times.

Milk and Sugar are not recommended for Green, White, Oolong and even Herbals unless herbal is a Rooibos.

Chado recommends use of finum® brewing baskets or tea filters which give enough space for the tea leaves to open to release full flavour and aroma.
Does tea contain caffeine?

Yes, but tea contains significantly less caffeine than coffee. Tea includes L-Theanine, which helps to counteract the effects of caffeine. If you're concerned about your caffeine intake, you'll be relieved to know that caffeine in tea fades almost completely after the first steep.
Is it true that tea doesn't go bad?

Untrue. Like all organic substances, the compounds that produce flavour and health benefits degrade with time due to exposure to light, moisture and air.
Invigorating, Relaxing, Uplifting
Sourced directly from Farm